Front Desk Dynamo Wanted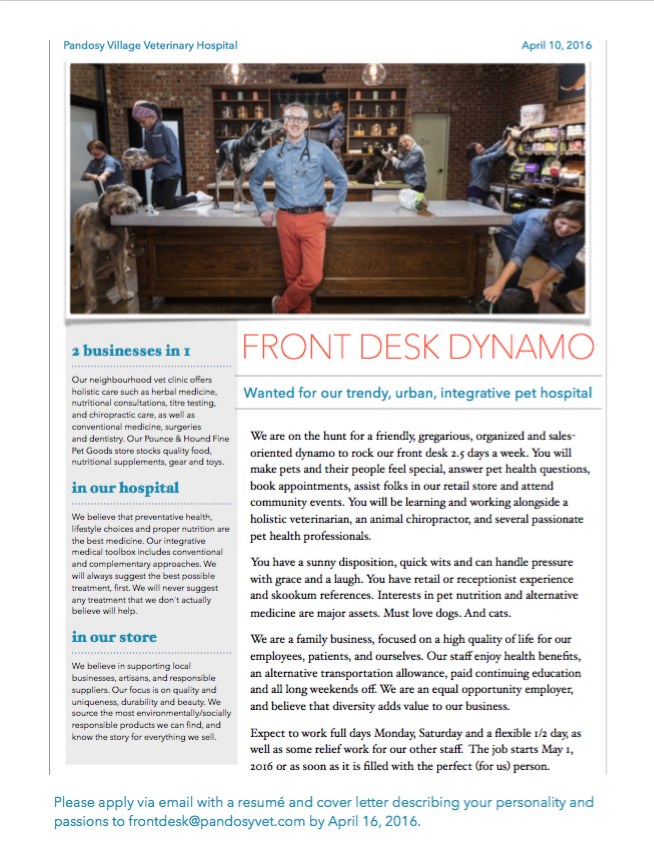 We've hired! Thanks for all the applications!
We are on the hunt for a friendly, gregarious, organized and sales- oriented dynamo to rock our front desk 2.5 days a week. You will make pets and their people feel special, answer pet health questions, book appointments, assist folks in our retail store and attend community events. You will be learning and working alongside a holistic veterinarian, an animal chiropractor, and several passionate pet health professionals.
You have a sunny disposition, quick wits and can handle pressure with grace and a laugh. You have retail or receptionist experience and skookum references. Interests in pet nutrition and alternative medicine are major assets. Must love dogs. And cats.
We are a family business, focused on a high quality of life for our employees, patients, and ourselves. Our staff enjoy health benefits, an alternative transportation allowance, paid continuing education and all long weekends off. We are an equal opportunity employer, and believe that diversity adds value to our business.
Expect to work full days Monday, Saturday and a flexible 1/2 day, as well as some relief work for our other staff. The job starts May 1, 2016 or as soon as it is filled with the perfect (for us) person. 
Please apply via email with a resumé and cover letter describing your personality and passions to frontdesk@pandosyvet.com by April 16, 2016.
Pandosy Village Veterinary Hospital offers holistic care such as herbal medicine, nutritional consultations, titre testing, and chiropractic care, as well as conventional medicine, surgeries and dentistry. Our Pounce & Hound Fine Pet Goods store stocks quality food, nutritional supplements, gear and toys.
---
Also in Natural Pet Health Blog
If you do need to evacuate, a little preplanning, can help the stressful situation. Having supplies from home makes uprooting much easier on your pet, so pack a grab bag with pet care essentials. Download a packaging list for your pet go bag here.