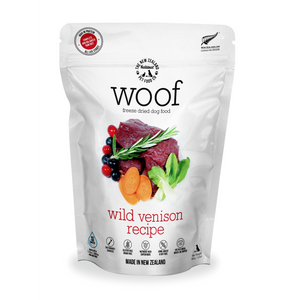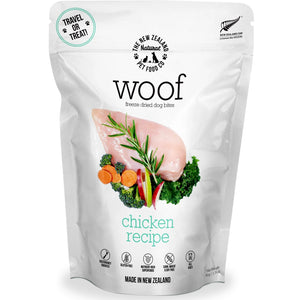 NZ Natural Pet Food Co (Freeze Dried Food)
We all know that what we put into our body determines how we feel and how we live our life. We are so careful about what we eat, making sure our food is wholesome and nutritious so we always feel our best, so why shouldn't our animals have the same? After all, they are an important part of the family!​
We created The New Zealand Natural Pet Food Co. out of a desire to give pet parents (like us!) a convenient and safe option to feed their pets a wholesome and complete diet, as close to raw as possible. We want our animals to not just live and survive, but to thrive. WOOF and MEOW (our dog and cat food ranges) are designed around the daily rituals of caring for your pet's body, skin and well-being, but with a dietary balance. Our premium pet food range uses fresh whole ingredients, which are brimming with earth-grown goodness. 
Our food and treats are manufactured in small batches here in New Zealand. We support fair trade and local sourcing when choosing suppliers and farms across the country. From our packaging to our ingredient choices, we've kept everything simple and easy to understand. Our recipes are high in meat (protein) for a species appropriate diet. We don't include any nasties, by products, or fillers (such as corn, wheat, meal or soy).  No artificial colours, flavours, or preservatives. It's simply delicious, nutritious food that your pet will love!
You can't change the past, but with WOOF and MEOW you know your animal will be fuelled with food that will help them live better, here and now. 
We hope your best friend loves our food as much as ours do!
Amber & Jacqueline
---